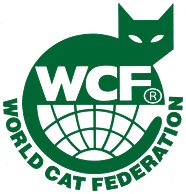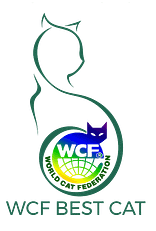 * informacja w języku Polskim ( English language below )
Wystawa WCF Cat Olimpia odbywa się raz w roku i jest w pełni uznaną Światową Wystawą.
Żadna inna wystawa WCF nie odbywa się w dacie wystawy WCF Cat Olimpia.
Podczas wystawy odbędzie się "Olimpia Master" oraz prezentacja "Best Cat of WCF".
Koty które biorą udział w wystawię otrzymują punkty x3
Klub organizujący WCF:
Stowarzyszenie Hodowców Kotów  – PL-0246 (SHK)
Kluby współorganizujące WCF:
Polski Związek Felinologiczny – PZF (PL-0138)
Międzynarodowy Klub Miłośników Kotów Brytyjskich Krótkowłosych – IBSCC (PL-0193)
Association of Cat – CAAC (CN-0333)
* information in English language
The "Best Cat of WCF"-exhibition (WCF Cat Olimpia) is held once a year and is a fully recognized World exhibition.
No other exhibition is licensed on the Olimpia date.
The "Olimpia Master" competition will take place at the Olimpia as well as the presentation of the "Best Cat of WCF".
Cats that participate, get triple points for their results ( x3 ).
Responsible/Organizing club:
Stowarzyszenie Hodowców Kotów  – PL-0246 (SHK)
Co-organizing WCF clubs :
Polski Związek Felinologiczny – PZF (PL-0138)
Międzynarodowy Klub Miłośników Kotów Brytyjskich Krótkowłosych – IBSCC (PL-0193)
Association of Cat – CAAC (CN-0333)